2021 has been an incredible year.
Our company has grown by more than 100%, and our team now comprises 16 people, with three more members of staff set to join us at the beginning of next year.
Soil must be treated carefully; too much has already been destroyed. 95% of the food we eat comes from soil, so it is hugely important to protect the soil and keep it healthy. This year, we have been pleased to see soil get the attention it deserves. The EU is about to bring in laws that will recognise soil as just as important as air and water.
M20: Our mobile steam machine concept.
This year has seen the long-term testing of our agricultural machine. We have spent 16 hours a day from early April to mid-October working with the machine, treating fields for ambitious Norwegian farmers. Next, we took the machine to Spain to test our equipment under different conditions, since southern Europe's soil and water is very different to that in the north. We have documented results for strawberry plants, parsley root and baby leaf greens, and we are expecting results for celery, cauliflower, potatoes and carrots soon. In the picture below, you can see our machine steaming soil for growing baby leaf greens indoors in Spain in November 2021.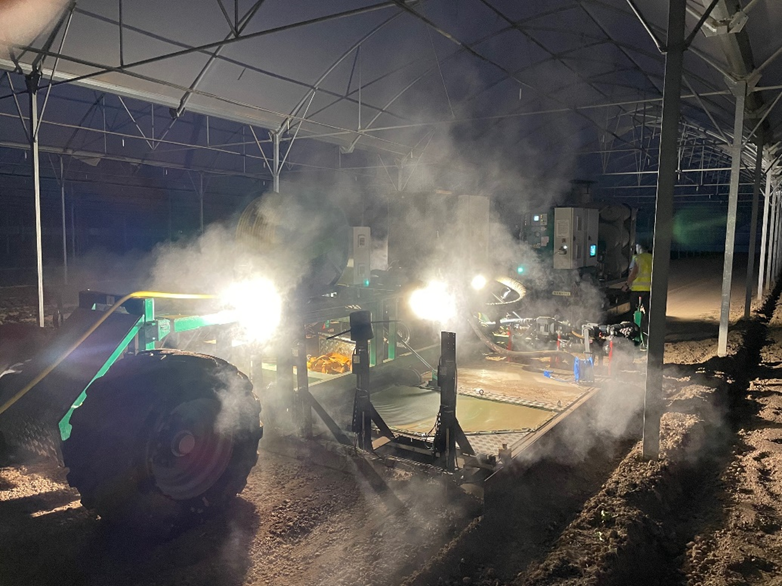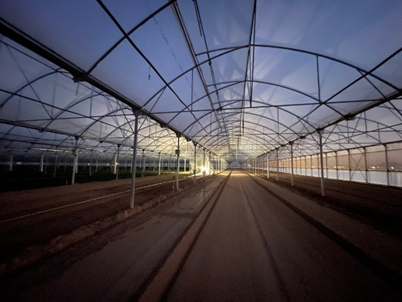 The two pictures below demonstrate the results. The first picture shows the steamed soil, where the baby leaf greens grows well. The second picture shows the non-steamed area, where the growth is less promising. The conclusion? Our technology works!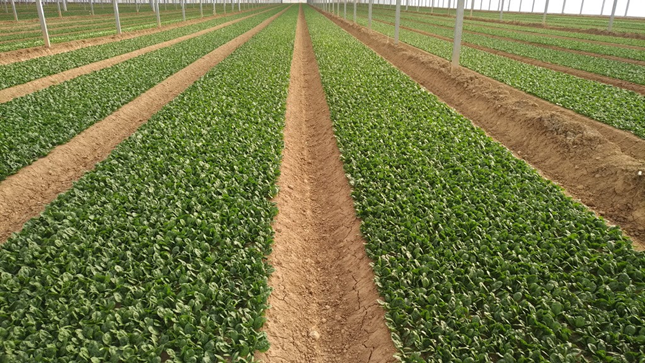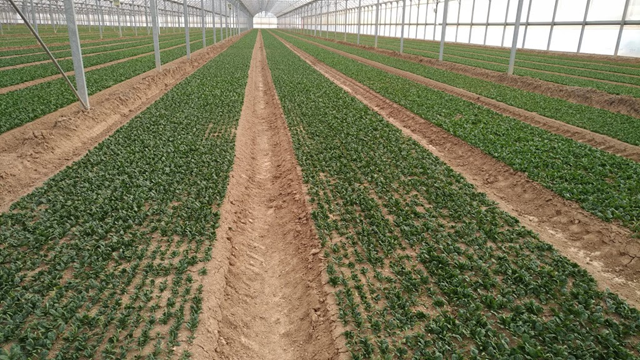 The most impressive result we saw this year was for parsley root. One producer harvested 45 tons per hectare on steamed soil; the usual harvest is 15 tons. Root vegetables undoubtedly grow better in steamed soil – this is game changing. It should be noted that this particular particular farmer used more than the recommended amount of pesticides.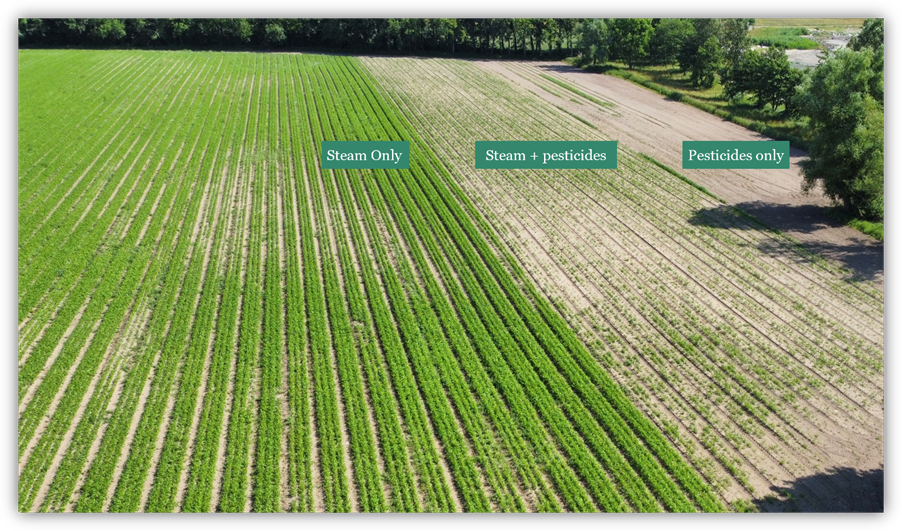 Things looked promising in the summer, but even we were surprised by the final results.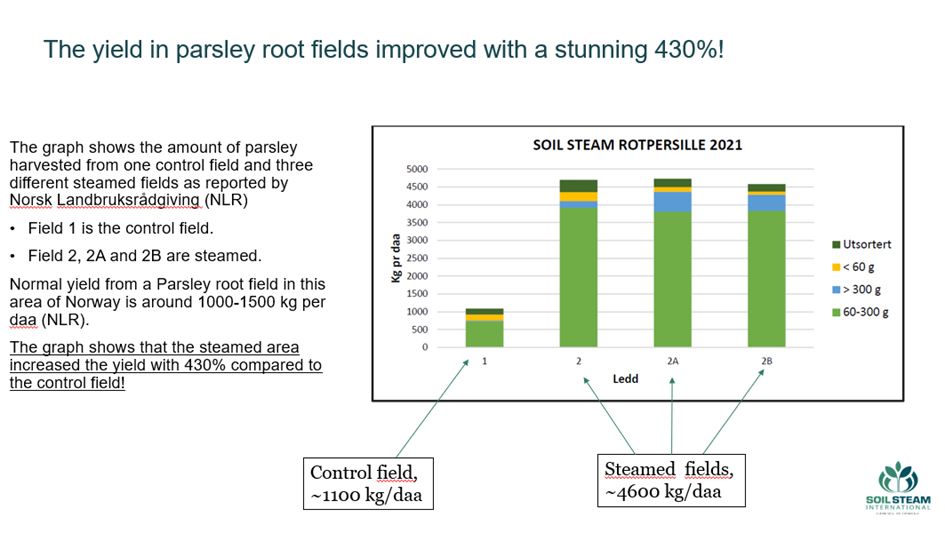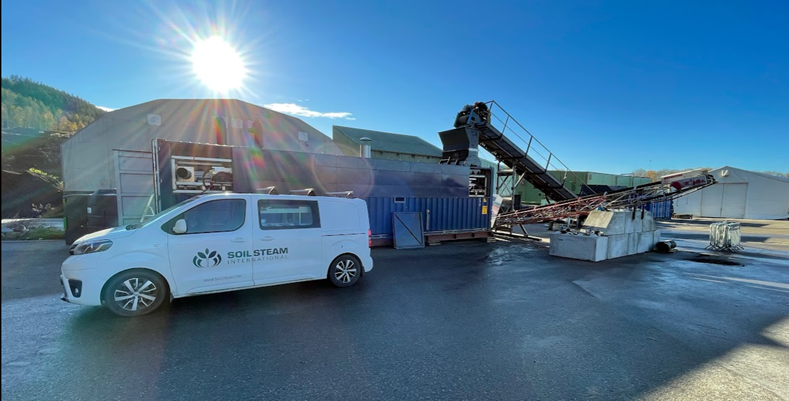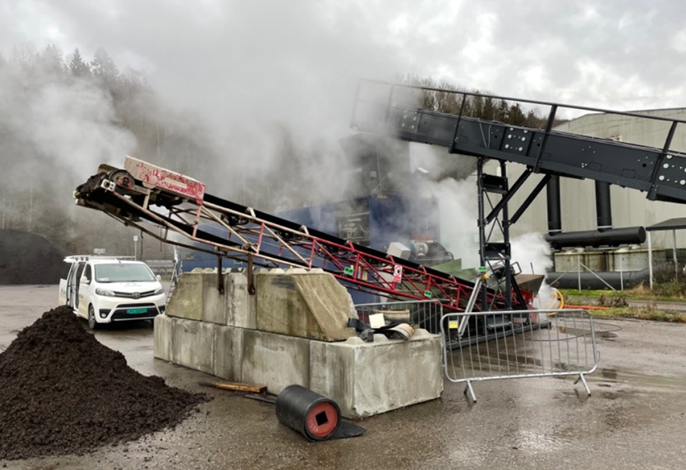 Since then, we have developed and tested several different technologies. At the same time, we have been working closely with the Norwegian Institute of Bioeconomy Research (NIBIO) to document steaming's effects on the soil and the life it supports. The results from this test have already been published in a peer-reviewed paper; they demonstrate that our technology kills the weeds and seeds in only three minutes.
Last but not least, we have been calculating our machines' greenhouse gas (GHG) emissions. Soil stores a huge volume of carbon (it is the world's largest source of carbon storage after the sea); without fertile soil, humankind would not be able to combat climate change. On top of this, sending degraded soil to landfill also involves a lot of transportation. The calculations show that one of our Soil Steam S20 machines could achieve net negative GHG emissions of up to –871 tons CO2e over the first 10 years if 73,600 m3 of soil is steamed and reused every year. This is the equivalent of taking 267 petrol cars off the road for a year.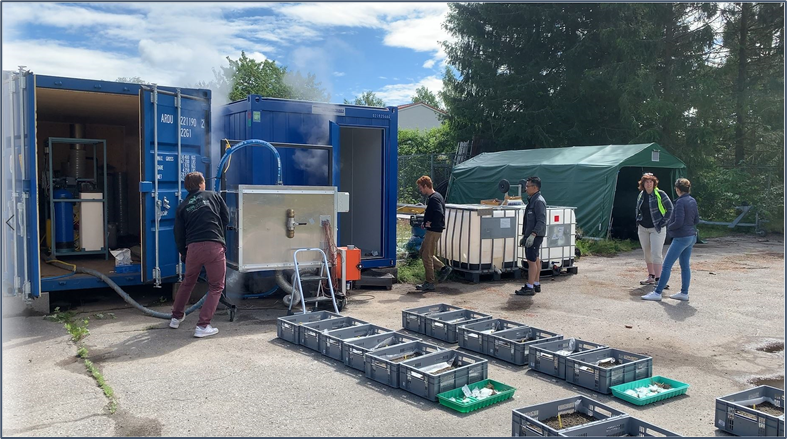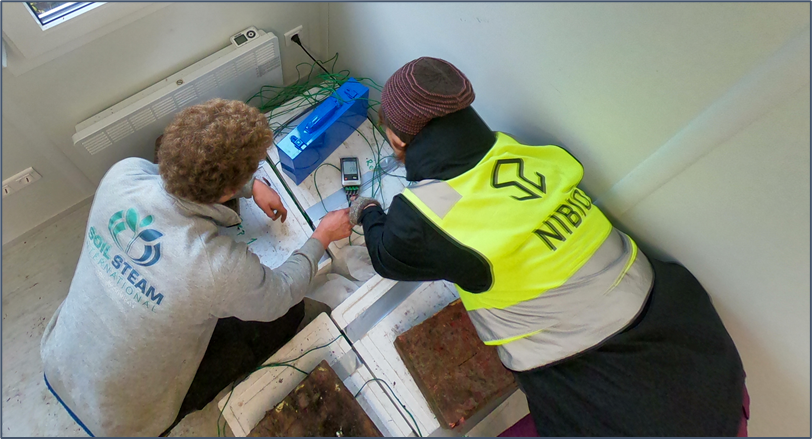 The technology is proven. The results are better than we could have hoped for. We're in touch with some of the biggest players in the world, and our operations are sustainable.
We are now going to celebrate Christmas and New Year, and we will be back in January to take this venture to the next level. Soil Steam International wishes everybody a merry Christmas, and we look forward to 2022.
Here's to a better, healthier future for soil!