After 4 months in our new offices in Sandefjord, daily routines have begun to settle down. The coffee machine is diligently used, and our meeting rooms are named in line with our industry – Sanden and Silten, two soil types! It feels also good to have our own 400 m2 workshop downstairs in order to build, test and modify our equipment.
During 2021 we have grown as a company, both in experience and in number of employees. On August 5th new engineers joined our team. Welcome Kristian, Tor Aksel, Mats, Gustav and Jo! We are happy that you decided to join us! We are now 16 engaged people, and competence within both the technical,agricultural, strategic and commercial fields.
We have been long-term testing our mobile machine Soil Steam M20 through this year, and the results have been great. The picture below is a drone shot of a treated field. The left side of the field is steamed only, the middle part is sprayed with pesticides and steamed, while the right field is only sprayed with pesticides. As seen, the growth on the left part of the field is significantly larger than the two others. This is a valuable experience to us, again showing the positive effect our technology has on all sorts of vegetables, berries and fruit.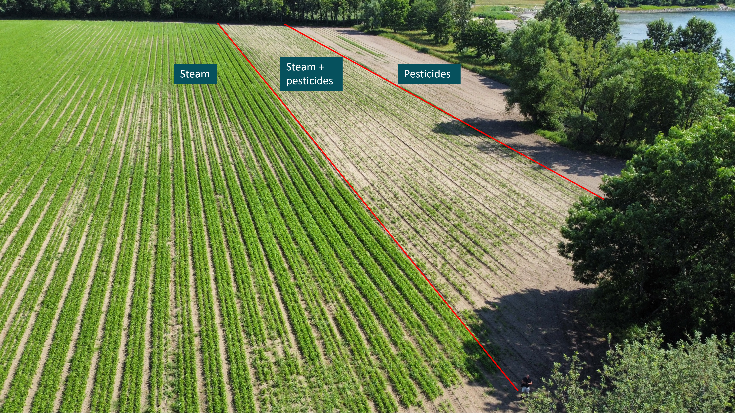 The plan is to finalize the season in Norway until the 15th of October before the machine is moved to Spain. While there, the technology will be further documented in the fields of some of the largest European players in agriculture, with tests to be done on different vegetables and berries. All demonstrations will be followed by scientists that will document the effects of our deep soil steam treatment. While our current machine is documenting the great benefits of our technology, the guys in the office are preparing new versions of our machines to spring –22. This will be a very interesting fall and winter for us.